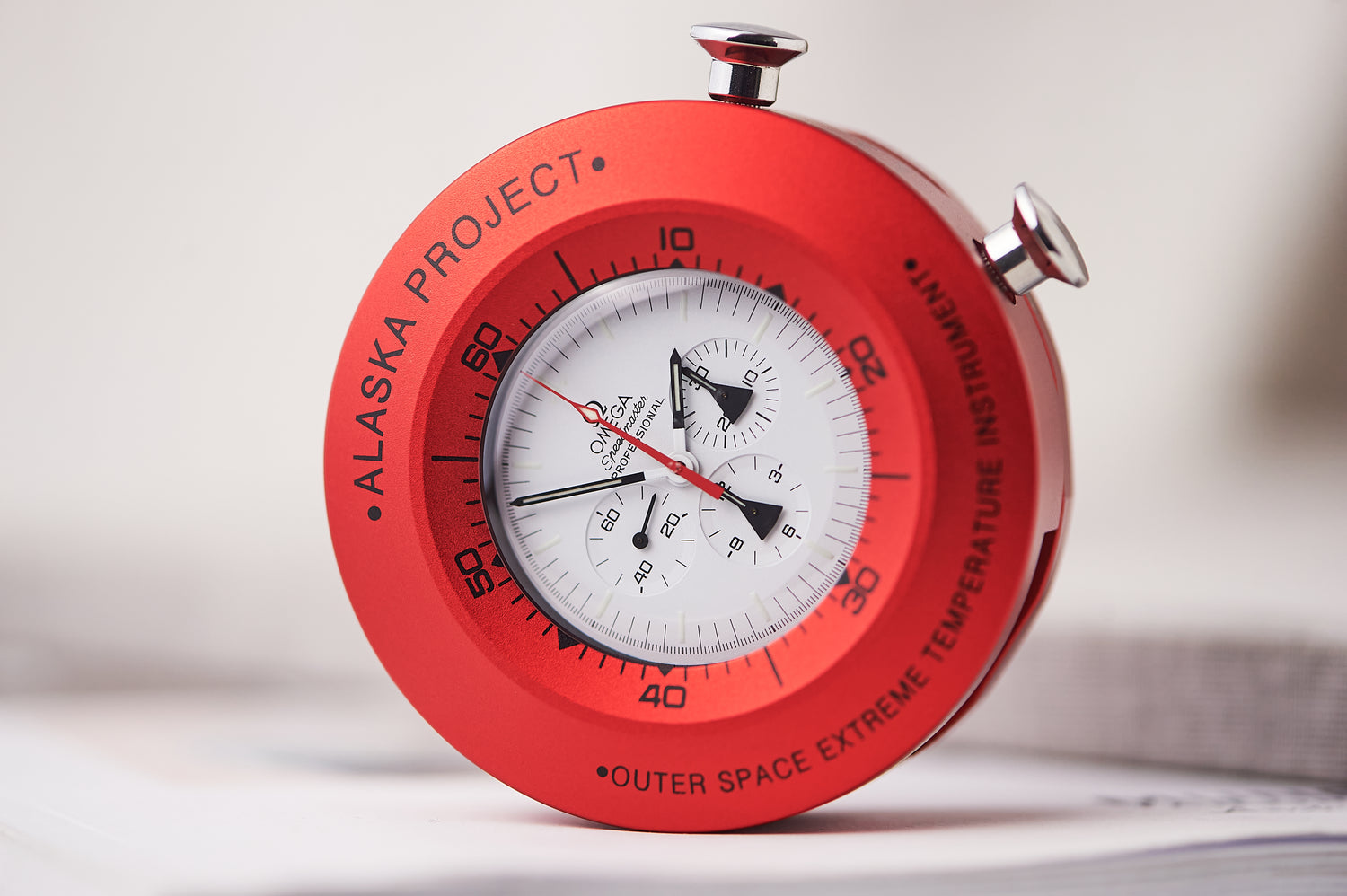 We've got a little cosmic wonder here, the star of the show, the 2008 Alaska Project Omega Speedmaster. The mysterious codename 'Alaska Project' might make you think of polar bears and ice-capped mountains, but, it's a cloak-and-dagger label Omega bestowed upon their mission-critical timepieces. Their destination? Nothing less than the wrists of NASA astronauts. Now, you'd have better luck finding a needle in a haystack than coming across one of these beauties outside Omega's vaults, museums, or NASA's inventory. But every once in a blue moon, a renegade appears.
In the cloak-and-dagger world of watchmaking, Omega picked 'Alaska' to keep prying eyes off their space-age project. The Alaska timepieces came into existence before and during the Apollo moon landings. When the curtain fell on the Apollo missions with the last hurrah of Apollo 17, the Alaska I phase from Omega also hung up its boots. The show went on, however, with Alaska II – an ambitious venture to whip up the next generation of astronaut-ready watches.
What's so special about these watches, you ask? Imagine a dial as white as a snowfield, hands shaped like lunar landing pods, and some - like this example - even sporting the iconic red thermal-insulating case that the 2008 Speedmaster brought into the spotlight. As a nod to this legendary lineage, the red case of the 2008 model tips its hat to its predecessors. These Alaska II prototypes made their way to Houston in 1970, but alas, they never got their moment in the stars as the space program took a tumble.
In 2008 Omega decided to pay homage to these prototypes by releasing this limited-edition version, only 1970 were made and have grown to be loved by Omega collectors. Seeing as so few were made, coupled with the bold and beautiful design, these rarely come up for sale now, currently we are not aware of another in the UK. This example has seen virtually no wear. The bracelet is in unworn condition, only minor handling marks can be seen on the case. We don't expect this to last long on the market and for good reason, it literally is out of this world.
You can view the full listing as well as more technical details on this piece here.