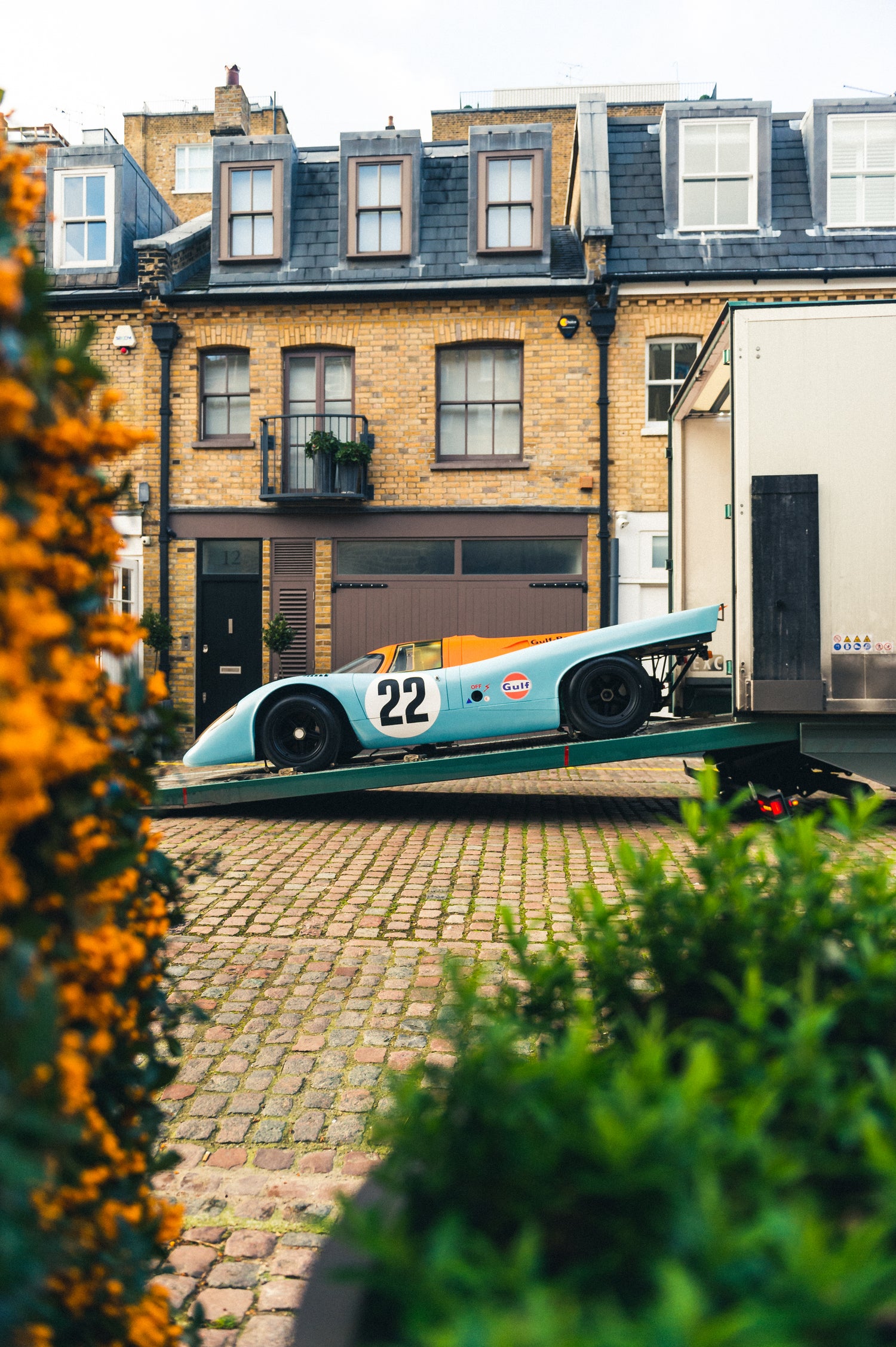 For such a lightweight chassis, the 1970 Porsche 917K holds a dense, immovable mass of atmosphere. Its air-cooled 5.4l Flat 12 engine tows not just 820 kg of aircraft-grade aluminium, but a mythology of almost 40 years of history as well; raced in Le Mans in 1970 and following a crash, was factory-rebuilt to Spyder specification with a thunderous new air-cooled 4.5L flat 12 - later stretched to 5L and beyond. It would prove not just an excellent racing machine, but a moviestar and cult icon moreover...
We recently got the call that this mythical machine was making a secretive trek from its sheltered life to the inimitable Motorsport Mews of Fiskens Cars ahead of Retromobile - not all racing machines are for the road, and we'll be the first to call out the ludicrous juxtaposition of a sleepy London side-street being suddenly awakened with the iconic and striking colours of this very special livery.
With a documented history stretching back decades, this Porsche 917-031-026 has one final feather in its quiver - it is the very car featured in the film every enthusiasts cuts their teeth on; 1971 'Le Mans' starring Steve McQueen. And so, with an example of the exact reference Heuer Monaco 1133B he wore in the film on wrist, we revelled in the nostalgia of it all with a good old fashioned game of dress up as the car is moved for final preparations ahead of its trip back to France.
Much like the 917K The Heuer Monaco needs no introduction, whether you're an avid watch buff or amateur enthusiast, chances are you've heard of, or seen a Monaco. And while a lot of its reputation is owed to the film 'Le Mans' the watch itself was a pioneer in its own right.
Originally released in late 1969, Heuer unveiled their first automatic chronograph movement, the Calibre 11. This was one of the very first automatic chrono movements ever made and interestingly its design was thought about by a think tank of several watch brands; Breitling, Hamilton, Heuer and Dubois.
With thanks to Fiskens Cars & Type7 - original storytelling & photography by Jake Boreham